Overview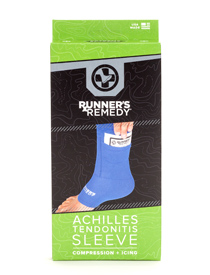 Achilles tendinitis describes an inflammatory change of the Achilles tendon without a tear of the tendon. Achilles tendinitis may be acute or chronic. The onset of pain is usually unilateral but may be found bilaterally. Achilles tendinitis is common in the third or fourth decade of life in patients who are active with sports or in jobs that require physical labor. Pain is described at the insertion of the tendon in the heel bone or in the body of the tendon.
Causes
When you place a large amount of stress on your Achilles tendon too quickly, it can become inflamed from tiny tears that occur during the activity. Achilles tendonitis is often a result of overtraining, or doing too much too soon. Excessive hill running can contribute to it. Flattening of the arch of your foot can place you at increased risk of developing Achilles tendonitis because of the extra stress placed on your Achilles tendon when walking or running.
Symptoms
Most cases of Achilles tendonitis start out slowly, with very little pain, and then grow worse over time. Some of the more common symptoms include mild pain or an ache above the heel and in the lower leg, especially after running or doing other physical activities, pain that gets worse when walking uphill, climbing stairs, or taking part in intense or prolonged exercise, stiffness and tenderness in the heel, especially in the morning, that gradually goes away, swelling or hard knots of tissue in the Achilles tendon, a creaking or crackling sound when moving the ankle or pressing on the Achilles tendon, weakness in the affected leg.
Diagnosis
In diagnosing Achilles tendonitis or tendonosis, the surgeon will examine the patient?s foot and ankle and evaluate the range of motion and condition of the tendon. The extent of the condition can be further assessed with x-rays or other imaging modalities.
Nonsurgical Treatment
Wear shoes with a low half-inch to one-inch heel that are somewhat flexible through the ball of the foot. Avoid
flat
footwear such as slippers or sandals and stiff shoes. Add a heel lift in your shoe. You may also use arch support inserts or orthotic insoles. Heel lifts and orthotics can be purchased at many of our pharmacies and Podiatry departments. Avoid standing or walking barefoot. Perform calf-stretching exercises for 30 to 60 seconds on each leg at least 2 times a day. Stand an arm?s length away from a wall, facing the wall. Lean into the wall, stepping forward with one leg, leaving the other stretched behind you. The leg behind you is the one being stretched. Keep this leg straight (locked) and the toes pointed straight at the wall. Stretch forward until you feel tightness in the calf of your back leg. Hold this position without bouncing for 30 to 60 seconds. Repeat for the opposite leg. Do stair exercises every day. Stand facing the stairs with the ball of your foot on a stair and your heel hanging off. Balance on one foot at a time while holding onto the rail. Slowly lower your heel as low as it will drop down and then slowly raise it up as high as you can lift it. Repeat this exercise slowly several times on each foot. Perform this exercise every other day, gradually increasing the number of repetitions over time as tolerated. If you are overweight, talk to your personal physician about resources that can help you lose weight. Carrying excess weight places additional pressure on your feet. Decrease the time that you stand, walk, or engage in exercises that put a load on your feet. Switch to a nonimpact form of exercise until your tendon heals, such as swimming, pool running, and using an elliptical trainer.
Surgical Treatment
Surgery usually isn't needed to treat Achilles tendinopathy. But in rare cases, someone might consider surgery when rubbing between the tendon and the tissue covering the tendon (tendon sheath) causes the sheath to become thick and fibrous. Surgery can be done to remove the fibrous tissue and repair any small tendon tears. This may also help prevent an Achilles tendon rupture.
Prevention
To lower your risk of Achilles tendonitis, stretch your calf muscles. Stretching at the beginning of each day will improve your agility and make you less prone to injury. You should also try to stretch both before and after workouts. To stretch your Achilles, stand with a straight leg, and lean forward as you keep your heel on the ground. If this is painful, be sure to check with a doctor. It is always a good idea to talk to your doctor before starting a new exercise routine. Whenever you begin a new fitness regimen, it is a good idea to set incremental goals. Gradually intensifying your physical activity is less likely to cause injury. Limiting sudden movements that jolt the heels and calves also helps to reduce the risk of Achilles tendonitis. Try combining both high- and low-impact exercises in your workouts to reduce stress on the tendon. For example, playing basketball can be combined with swimming. It doesn?t matter if you?re walking, running, or just hanging out. To decrease pressure on your calves and Achilles tendon, it?s important to always wear the right shoes. That means choosing shoes with proper cushioning and arch support. If you?ve worn a pair of shoes for a long time, consider replacing them or using arch supports. Some women feel pain in the Achilles tendon when switching from high heels to flats. Daily wearing of high heels can both tighten and shorten the Achilles tendon. Wearing flats causes additional bending in the foot. This can be painful for the high-heel wearer who is not accustomed to the resulting flexion. One effective strategy is to reduce the heel size of shoes gradually. This allows the tendon to slowly stretch and increase its range of motion.